Professor of Herbology
Posts: 2537
Joined: Sun Apr 22, 2007 7:49 pm
Location: In the Garden Shed
Hello everyone!
For the past few years, a large number of our cast and crew have worked very hard to bring you special short films, and our very own feature film. We are very happy to announce that those films are now available for purchase!
Through the month of January we are
offering a discounted price of $8 per DVD. Once January is through the price will go to its regular $10.
Please help us bring you more magic through our films and ask your parents if it is okay for you to follow this link to the sales page for our first three DVDs.
http://kunaki.com/msales.asp?PublisherId=131854
We would also like to send a special thank you to Aaron Spratte, Mike Atchley, and Max in One productions for making these films possible.
Please feel free to share this link with your friends and family as well!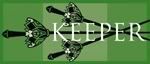 It's not that I love fighting, but I'm not afraid to, either.
And if we don't fight, who will?